Campus Tours
At US Aviation, our mission is to provide world-class, professional flight training, aviation services, and support to global customers. We are a privately held Texas corporation that strives to be the undisputed leader in elite aviator development and premier aviation services.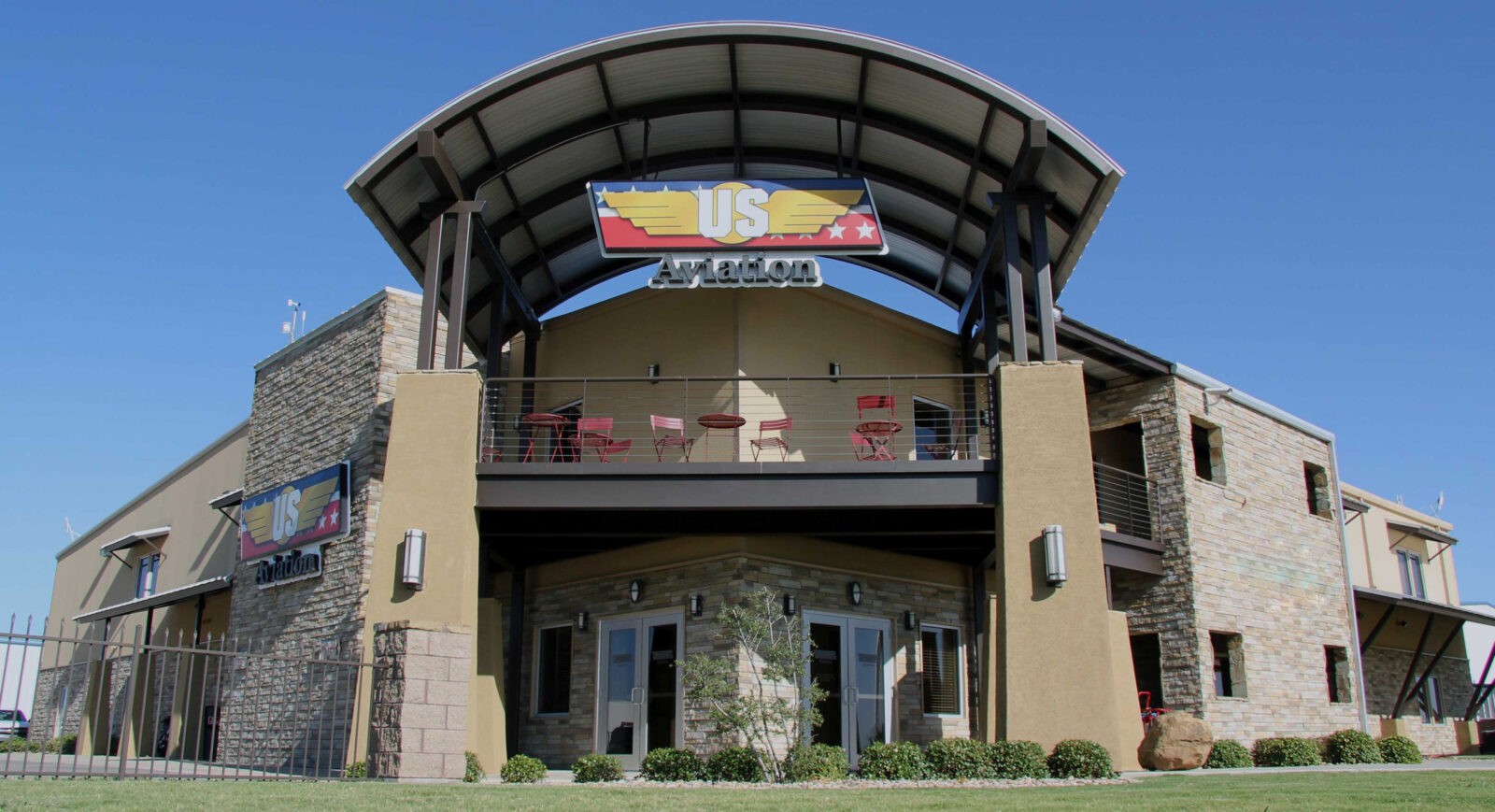 Since 2003, we have been dedicated to giving aviation students the best learning and training experience possible. Part of that experience includes the beautiful scenery and environment that surrounds our campus. US Aviation Academy is designed to allow students to enjoy the surrounding beauty while working and learning in a positive environment. Our amenities not only include a natural landscape, our facility is located at an airport that allows for optimal training for all of our students. Our main campus and corporate headquarters are located at our airport training center in beautiful Denton, TX. We have an additional campus; Alliance Airport (KAFW).
US Aviation is strategically positioned and uniquely qualified to sustain continued growth and increase our market share in the world-wide flight training industry. That's why we offer virtual or in-person campus tours to all of our prospective students. We want to ensure that our prospective students have a clear understanding of what our academy has to offer.
If you want to learn more about the US Aviation experience, contact us today and ask about our campus tours!
Local Attractions
At US Aviation, our mission is to provide world-class, professional flight training, aviation services, and support to global customers. We are a privately held Texas corporation that strives to be the undisputed leader in elite aviator development and premier aviation services.
Denton, Texas

Denton Square
The Denton Square, surrounding the original courthouse, has been ranked among the best in the country. As a lively college town, the square always has something going on. Every year Denton holds a jazz festival, film festival, various music events, and much more. Dozens of trendy shops and restaurants surround the square, making it a great place to pass an evening.
Campus Theater
This grand, historic movie house in downtown Denton was renovated in the early 1990s and is now a 300-seat performing arts theatre that puts on more than 100 musical and theatrical performances each year. It is the showplace for Denton Community Theatre and Music Theatre of Denton, as well as many other community performance groups.
Bayless-Selby House Museum
The walls of this Victorian-style house museum tell the story of life in Denton at the turn of the 20th century. Visitors hear the story of Denton County prior to 1908 and pass through the music room with the E. Gabler & Bro. grand piano, the elegantly set dining room table and the majesty of the Eastlake-style adult bedroom suite. From the moment visitors step foot on the garden grounds or the wrap-around porch, the walls of the Bayless-Selby House museum begin to tell their story.
Hangar 10 Flying Museum
The Hangar 10 Flying Museum is located at the Denton Municipal Airport and boasts four planes. Here you will see the Lockheed 10A plane, which has been owned by several individuals, including child movie star Margaret O'Brien. The Stagger Wing, built by Beech Aircraft, was used mainly for VIPs, admirals and dignitaries. The PT-22 was primarily used by the Army Air Corps as a trainer for rookie pilots. The last of the planes is the small, sporty-looking Piper L-4, which was used during World War II as a reconnaissance plane. The museum is free and open to the public.
The University Gardens
Right around the Little Chapel in the Woods, located on the Texas Women's University campus, lie gardens that were designed to display a diverse collection of plants from Texas and other areas. First established in the 1930s as a laboratory for biology students and a recreational area for all garden lovers, the gardens were neglected during World War II. During the late 1970s, however, the area was restored.
North Texas

Six Flags Over Texas
With so many choices, where do you begin? From pulse-pounding roller coasters to gentler options for tots, Six Flags Over Texas promises fun for any thrill seeker. Take a break at one of the entertaining shows, and even grab a bite at one of the restaurants.
Six Flags Hurricane Harbor
With three million gallons of water circulating through its attractions, Six Flags Hurricane Harbor in Arlington is famous for its heart-pounding rides, which are all soaked with bigger, better and wetter excitement!
The West End Marketplace
Today, more than seven million people visit the West End annually, making it one of Dallas's leading tourist attractions. As Dallas's oldest entertainment area, the West End is still a premier destination for special events. It is the site of street festivals, such as the West End Block Party series, personal occasions like birthdays and anniversaries and fun times out on the town with good friends.
North Texas Sports
Do you enjoy sports? Well, the Dallas-Fort Worth Metroplex is the right place for you. Dallas is a huge sports town with popular professional sports including but not limited to baseball, football, hockey, and basketball. The Texas Rangers, Dallas Cowboys, Dallas Mavericks and Dallas Stars proudly call Dallas home.
The Fort Worth Zoo
The Fort Worth Zoo is a zoo in Fort Worth, Texas. Founded in 1909 with one lion, two bear cubs, an alligator, a coyote, a peacock, and a few rabbits, the zoo is now home to 5,000 native and exotic animals. Further, it has been named as a top zoo in the nation.
The Fort Worth Stock Yards
The Fort Worth Stock Yards is a historic district in Fort Worth, Texas, and is home to the Fort Worth Stock Show & Rodeo. This yearly event offers a unique atmosphere rich in tradition and history. Also known as Tarrant County's largest annual event, the Stock Show attracts more than one million visitors each year. The 118-year old event is the nation's oldest livestock show, featuring more than 22 thousand heads of world-class livestock on exhibit. Further, the Fort Worth Stock Show & Rodeo is home to the World's Original Indoor Rodeo.
As a CFI for USAA's Career Pilot Program, I was not only able to help prepare my students for their careers as airline pilots, but I also gained a great deal of experience that has helped me advance my career as an airline pilot.
Quentin M. Myers
The students and staff at USAA were great to work with. The aircraft were a pleasure to fly and it was a pleasure to build my time here and see my students achieve their dreams!
Stacy Wareham-Clayton
USAA gave me the opportunity restart my career and I am forever in their debt. I gained invaluable experience flight instructing in some of the busiest airspace in the country.
Travis Wetterstrom