US Aviation Academy Awarded FAA Level C Certification and Sponsorship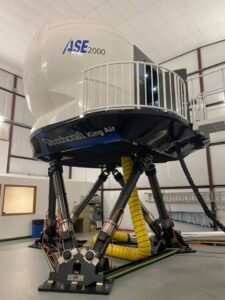 Denton, Texas, May 15, 2019 – US Aviation Academy has been awarded FAA Level C certification and sponsorship for its King Air C-90 full flight simulator.
US Aviation has been operating the full motion, full flight simulator under FAA sponsorship by the manufacturer and has now successfully transferred stewardship of FAA certification to its own operations.  FAA Level C requires 6 axis of motion, night and dusk visuals, dynamic control loading, and a level of fidelity high enough to replicate and replace the actual aircraft.
In addition to FAA certification, the flight school possesses simulator approvals from the China Civil Aviation Authority (CAAC) and the State Secretariat Civil Aviation of Cambodia (SSCA).
Since 2003, US Aviation's mission is to provide world-class professional flight training, aviation services, and support to global customers. The main campus and corporate headquarters are located at Denton Enterprise Airport (KDTO), with additional campuses at North Texas Regional Airport (KGYI) and Fort Worth Alliance Airport (KAFW). Utilizing a fleet of flight simulators and over 120 aircraft maintained by its FAA-approved 145 repair station, the Academy specializes in airline, military, and professional pilots pursuing a career in aviation.
For more information, please contact US Aviation Academy at +1 (940) 297-6419 or [email protected].