US Aviation Academy Joins Department of Transportation's Forces to Flyer's Initiative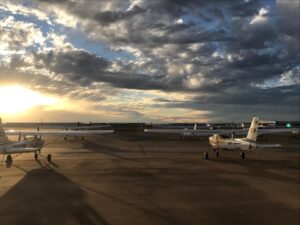 [Denton, Texas, May 16, 2018] US Aviation Academy is honored to participate in the Department of Transportation's Forces to Flyer's initiative. This is an exceptional opportunity for veterans to begin a career in aviation. The Forces to Flyers initiative will include FAA Private, Instrument, Commercial Multi and Single Engine, Certified Flight Instructor, and CFI – Instrument. Students will train full-time for approximately one year. The initial cohort of four students is anticipated to start in mid-July.
Veterans can apply online through the following web address:
The deadline to apply is June 4th, 2018. Successful applicants will be notified by June 11th, 2018.
US Aviation Group LLC provides world-class flight training services at Denton Enterprise Airport (KDTO), North Texas Regional Airport (KGYI), and in partnership with Tarrant County College at Alliance Airport (KAFW). US Aviation Academy offers FAA and CAAC Part 141 training including Private Pilot, Instrument Rating, Commercial, and Certified Flight Instructor. US Aviation has a fleet of over 100 aircraft and simulators, making it one of the largest flight training academies in the United States. US Jet Center, a subsidiary, also provides premier FBO services at KDTO with over 100,000 square feet of corporate hangar space under management.