WATS Conference 2016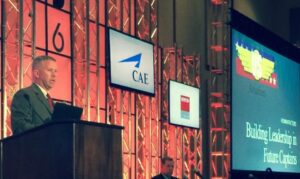 US Aviation Group's Chief Operations Officer, JR Starch, commanded the stage as a key-speaker on the opening day of the 19th annual World Aviation Training Conference & Trade-show (WATS 2016) held at Rosen Shingle Creek Resort in Orlando, Florida. WATS Orlando is the largest gathering of aviation simulation and training professionals in the world.
WATS Aviation Conference Orlando
This year's theme was, "optimize blended learning and training technology" and offered a variety of conference streams: World Airline Pilot Training, Regional Airline Pilot Training, Maintenance Training, Cabin Crew Training and Helicopter Pilot Training. This international event showcases aviation services and products and provides a venue for networking and socializing with top training companies, manufacturers, and within the aviation industry.
JR Starch Takes Center Stage
JR Starch took center stage at the WATS Aviation Orlando Conference to speak on the future of the industry.
"It was an honor to be invited to speak at WATS 2016. Especially considering the wealth of knowledge and experience present in the room. The opportunity to address leadership and character as a fundamental aspect of our industry – and not just within the pilot ranks – continues to be of the utmost importance," said Starch. "The future of our industry doesn't just rely on the technical or physical skills of new aviators, but on the selfless character and right decision-making necessary to sustain it."
Mr. Starch lectured on, "Building leadership in future captains" and shared the limelight with Captain Jean-Michel Bigarre, Director of Training for Airbus, Captain Jon Tovani, Managing Director of Flight Training, Delta Airlines, Dr. Jeffery Schroeder of the Federal Aviation Administration (FAA) Captain John Weigand, Managing Director of Flight Standards at United Airlines and other renowned industry leaders.
Mr. Starch captivated the audience with his informative and highly energetic presentation. Starch was equally engaging during the follow-up discussion panel where he challenged the audience to re-think the human factors component when training commercial airline pilots.
Airline Transport Pilot (ATP) Training
Starch reminded the audience a significant, yet marginalized Airline Transport Pilot (ATP) training prerequisite is "to be of good moral character" and indicated, in his experience, high moral character has proven as important, if not more so, than technical knowledge, skills, and abilities.
"Programs designed for the character development of individuals combined with metrics for evaluating uptake by airline and corporate trainees, has largely been ignored outside military circles," said Starch. "At US Aviation, our experience validates the notion training organizations that incorporate 'values' training into their curriculum improve learning, judgment, and PIC responsibility, as well as improve competency measurements."
Contact US Aviation Academy
For more information on US Aviation Academy and our commercial airline & military pilot training programs, please contact Scott Sykes at 1-940-297-6418 or [email protected]. Additional information can be found at www.usaviationacademy.com or www.chickatay.com.