US Aviation Academy Approved as Cambodian ATO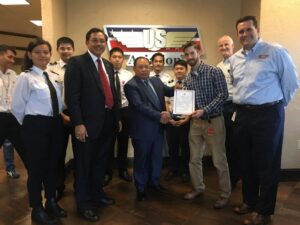 Denton, Texas, March 28, 2019 – US Aviation Academy became the first flight school in the United States to be approved by the State Secretariat Civil Aviation of Cambodia (SSCA) as an Approved Training Organization (ATO).
A growing cohort of Cambodian students has already begun training and the first is anticipated to graduate in May. US Aviation provides ab-initio flight training for Private Pilot, Instrument Rating, and Commercial Multi-Engine pilot certification. Advanced courses such as Flight Instructor and Turbine Transition are also available.
US Aviation's mission is to provide world-class professional flight training, aviation services, and support to global customers. As a privately held and rapidly growing Texas corporation, US Aviation is tracking to become the undisputed leader in elite aviator development and premier aviation services.
Operations began in 2003 with the current owners acquiring the business in January 2006.  From its three training bases, US Aviation Academy conducts approved training courses under FAA, China CAAC, and SSCA certification. US Aviation is one of the few flight schools in the US authorized by the CAAC for approved training and holds two of the certificate approvals issued. Moreover, US Aviation is the only US flight school authorized in Cambodia by the SSCA.
The main campus and corporate headquarters are located at Denton Enterprise Airport (KDTO), with additional campuses at North Texas Regional Airport (KGYI) and Alliance Airport (KAFW). Utilizing a fleet of over 110 aircraft and flight simulators maintained by its FAA-approved 145 repair station, the Academy focuses on training cadets who are pursuing a professional career in aviation.
For more information, please contact US Aviation Admissions at +1 (940) 297-6419 or [email protected].